Here is a quick guide on how to iron on NAME IT labels.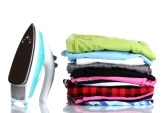 Heat your iron to the cotton setting. No steam. Wait for your iron to heat. (As everybody's iron is a little different, we just suggest around the cotton setting.)
Place your label onto your garment and give it one firm iron to hold it in place. PRESS HARD for a second. Then move your iron over the top of your label for about 7 to 10 seconds. (Some garments will only need 5 seconds.) See video on the home page.
Leave your label to set for about 10 seconds before touching. The glue in our labels will continue to set hard over the next 24 hours. Do not wash your garment for the next 24 hours.so that it has time to set. THE PICK TEST - Try to pull the label at the sides after it has cooled. If it comes easily then it means it didn't iron on correctly, most likely not enough heat - increase the heat of your iron and just repeat above.
DELICATE fabrics.
Fabrics that are made of wool, or some polyesters, or merino are suited to short, repeated bursts of heat. Place your label on the garment and press for SHORT periods of time, to protect the fabric. (Or you could cover with a piece of kitchen baking paper to protect your material. If you use a cloth, increase your heat to make sure the heat goes through the cloth to activate the seal). Several, repeated, short irons will heat the glue enough to activate it on your delicate items. Label socks on the SOLE, ie under the foot. Put the label toe to heel.
Your NAME IT LABELS are fantastic and also UNIQUE. Especially designed for AGED CARE and commercial wash.
The difference with NAME IT Iron on labels is that you can iron directly onto your label at any time. This is helpful when ironing after washing your garment. You can iron right on top of the NAME IT iron on label once it is applied as they are made from a soft blend of cotton/polyester. (There are different types of iron-on one can buy elsewhere. Some have a plastic surface. Ours are soft. )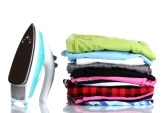 We guarantee that our Iron on labels will continue to stay put. See our feedback! We regularly test our material to make sure it does. They are used in heavy commercial washing machines in Rest Homes, Aged Care and Boarding Schools. Our machines and our material are specifically designed for making iron on labels for clothing. We have 23 years experience, and as materials have changed over the years, we have updated and improved our product.
How can you tell if they are properly applied?
You will be able to tell because our iron on labels will look literally ironed into the garment and you will not be able to pick it off, after the 24 hour cooling down period.
You will see that the backing glue has been activated and the label has pretty much become part of the garment.