Here is a quick guide on how to iron on NAME IT labels.
IMPORTANT UPDATE. Do not use an auto thermostat iron with a single temperature setting. They will not heat up sufficiently to seal our labels. A standard, home iron, set to COTTON works every time!
More information on these irons below.
********************************************************************************************************************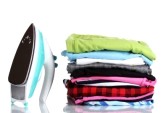 THE BASICS for most fabrics
1. Heat your iron to the cotton setting. No steam. Wait for the iron to fully heat.
2. Iron the area of material where the label will go, to heat it up.
3 Place your label onto your garment.
4. Iron on top of the label firmly just for a few seconds to keep it straight and in place. Then, re-iron over the top, moving the iron around, for several more seconds and at the same time push down back and forth. The label needs heat to activate the special glue. Without enough heat the label will not stay on.
TIPS for delicate materials and the use of baking paper
1. Kitchen Baking Paper helps if your iron is NON TEFLON or if you need to protect a fabric from your iron, eg wool, or polyester
2. If using baking paper you need to make sure your iron is hot and that you press hard, as baking paper stops some of the heat going through.
3. Baking paper usually means less concern about a delicate fabric, and is absolutely fine to use, but you must keep your heat up. NB Do not use a hanky or tea towel, or ironing cloth as that sort of material will stop the heat going through.
GENERAL QUESTIONS
How long should I iron?
3 - 10 seconds of good heat will be enough to melt the glue and activate it on most items. Some materials will need only 5 and some thicker materials will need more. Every iron is slightly different with its heat output.
What should I do after ironing?
Always leave your label to cool down and set before washing - ideally 24 hours.

The glue in our labels will continue to set hard over the next 24 hours. But you can try to lift a corner, to make sure it is well sealed. If not, increase your heat and re-iron directly over the top again.

Why have my labels lifted after a few washes?
If any label lifts after a few washes, you need to re-iron them with a higher heat. It means the temperature of your iron, when you first ironed it, wasn't enough to fully activate the glue.
Should I throw out a label that comes off in the wash?
Even a label from the bottom of the washing machine, can usually be re-used. Just dry your garment thoroughly, and iron the place where you want the label. Re- iron it on with a higher heat than before.
How do I iron labels onto socks?
We suggest placing the label onto the sole of the foot. Heel to toe. (Against the stretch) Once again, iron the sock first, to heat it up. Place the label heel to toe. Iron directly on top of the label, pressing hard, with a good cotton heat in your iron.
For socks you could use the shorter length iron on or just cut or trim your standard one down. (You can ask us to split a standard pack of iron on eg for a 100 pack, ask us to print 80 standard length and 20 short length. Write this in the comment section of your order.)
*********************************************************************
I've ironed my label exactly as per instructions and they looked good, but on the first wash they fell off!!
What type of iron do you have?
Some newer irons have an auto thermostat, sometimes called "Optimal Technology". They are great irons for ironing clothes but when you switch the steam off the temperature automatically lowers, and it is impossible to heat it up high enough to seal an iron on label. If you only have an "optimal technology" iron, you cannot use iron on labels.
*****************************************************************************************
Why are Name It Iron On Labels unique?
...because you can iron right on top of the NAME IT iron on label at any time as they are made from a soft blend of cotton/polyester. Other iron on labels on the market have a plastic surface and you can't iron straight over them. This makes NAME IT labels easier to handle when ironing an item of clothing after washing and drying.
We use a special material for use in commercial washing situations and driers.
The only fabric our iron on labels will not stick to is nylon. But materials that are a blend of nylon and polyester are alright.
Thank you for the wonderful support and feedback we get from you all!
See our feedback comments on the iron on label page. These labels really work. We have been selling our labels all round Australia for over 20 years.
If you have any other questions please email info@nameitlabels.com.au