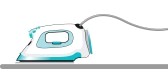 A common question we get asked is "Do they really work?"
And our honest answer is YES! If you get the Name It Labels Iron On clothing labels.
We realise there are a lot of companies out there advertising products called iron on name labels or similar, which we have found are sometimes just stickers which are stuck to the clothing and then somehow supposed to survive the heat and pressure of a commercial washing machine and dryer – wash after wash.
Typically such stickers or labels come loose after a few washes. This defeats the whole purpose of having name labels on your clothing. The main purpose is to help identify and personalise and also help avoid lost property.
We don't like to blow our own trumpet, but when it comes to the gold standard of iron on clothing labels, we truly believe we have a fantastic superior product which does exactly as it claims to do – a label which irons on to and in to clothing so it is clearly identifiable and personalised.
But more importantly, our iron on clothing labels will last on the clothing even after rigorous washing. We have tested them over and over, year after year and even outside our own premises with top regular customers who include rest homes and boarding schools.
The Name It Iron On clothing labels are the easiest and quickest to apply. They are not plastic! They are cotton and polyester. All you need is a hot iron with no steam.
Can you operate an iron? Then you sure can apply one of our clothing labels.
They have a unique adhesive glue on the back which is activated by the heat of the iron and bonds directly to the clothing fibres permanently.
Once applied correctly you will not be able to pick the name label off the clothing. If you try to do so, sometimes you will tear out parts of the clothing or fibre.
Here are some other tips and recommendations regarding our popular iron on name clothing labels:
We use a font that is always clear and bold and easy to read.

The name is the first thing you see, followed by any other important information like a phone number and/or room number underneath – usually in a smaller size text.

You can request a full name, an initial and a last name, or just a surname. There is no limit or rules when it comes to how you want to personalise your name labels.

Save 20% when ordering more than one pack of iron on labels. This is our special family bulk saving. Perfect if all the kids want their own set of labels.

We use a WHITE tape for our iron on clothing labels with black ink - guaranteed not to fade either.
We believe this makes our labels timeless, stylish and classic, and suitable for young and old.
There are two sizes on offer. A standard size which is 5cm long. This is great for longer names or labels which need more detail. It's also useful for labels made for retirement or nursing home needs, as we can make the font larger and therefore easier to read for the elderly. The other size option is the 'child' size/smaller size, and this label is 3.5cm long. Some older high school children prefer this size too as it is more discrete.



The smaller size doesn't necessarily have to be for a child's clothing. The font/text will still be easy to read at this size (we double check all labels before printing). A small pack of 20 labels at this size is popular for socks and smaller clothing items.
If there is anything we've missed or you want to know more about our iron on clothing name labels, then please don't hesitate to contact us. We are always happy to help and customer service is important to us.
OR click here, if you're ready to order your own set of personalised Name It iron on labels.