If you are after a school label pack which gives you the main personalised products you need in order to get organised for school and also gives you a 40% saving, then the our Value Pack is for you.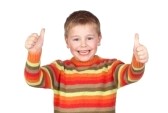 In the school value pack you will get 100 iron on clothing labels which are perfect for the school uniform.
These clothing labels WILL work on school uniform items and survive the wash and dryer no problem. The key is in the application - using a hot dry iron with no steam. You will notice with the Name It Labels iron on clothing labels that our labels actually iron right into the clothing - you won't or shouldn't be able to pick at the edges. If you can, once the garment has cooled down, then you just need to go over the label again with the iron with an increased heat (NO transfer paper - iron right onto the label).
You will immediately see how these iron on clothing labels are different to many others on the market. It is no problem to use these clothes labels on all items for the school uniform including shirts, dresses, trousers, hats and SOCKS even - yes woolen socks too. This is not a problem for our labels. If you aren't into sewing or can't sew or don't have the time to fiddle around with sew on clothing labels, then definitely look at the value pack with the 100 iron on clothing labels in it.
Also in this value pack you will get an assortment of stickers. Probably more than you need!
There are 50 standard stick on name labels (50mm x 12mm) and also 50 mini stick on labels (50mm x 6mm).
These are perfect for all glass, metal and plastic items, plus paper and stationery. You'll be able to label electronics (laptops, camera's, phones), sports equipment and the usual lunch boxes and drink containers. Our vinyl stickers are absolutely and totally waterproof, dishwasher and fridge/freezer safe. They are thoroughly tested and made of top quality vinyl and printed in black text that will not fade. These are tough and durable labels.
Finally we've included 20 shoe labels and 20 shoe covers inside this value pack. This means you can label 10 pairs of shoes! (2 labels per pair of shoes). Whether it be the standard black school shoe, rugby boot, summer sandal, sports sneaker - any shoe really including slippers. The best place to put these shoe labels is under the arch of the foot as this is the place with the least amount of rubbing and where the sticker will last the longest.
We can't recommend enough that if you are looking for a good value pack then this pack is by far the best value for personalised labels and will really provide you with enough clothing labels and vinyl stickers to last a good year or two or more even! Individually purchased the products come to $94, so it is a great saving to buy them altogether in one pack for only $59. The same applies with all our labels- you can have one or two lines for no extra cost.
Get yourself the Value Pack today and have all your labelling taken care of!