Isn't tradition nice, and isn't it nice sometimes to just get something a little old fashioned.??!
Not many companies make embroidered woven labels anymore, because the big looms needed to make the labels, are very high maintenance so most companies have moved to the latest technology which is printed labels.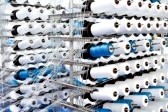 There is nothing wrong with the newer style of printed labels, and they are actually usually easier or clearer to read with the printed name and more affordable to buy than woven labels, but sometimes you just want something like the old days – a nice woven clothing tag, sewn into your clothing.
Woven embroidered labels are also perfect for that special job or project where you'd like to add your brand or company name / website in a tidy and discrete manner.
OR they are also popular for quality school uniform items which might be handed down between siblings or even have the label removed and re-sold e.g. blazers.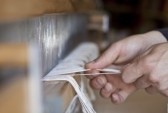 We are still selling these types of quality labels, and if this is what you are after, there is no reason not to get a full pack of 50 or 100 woven name clothing labels and hand sew them into a school uniform for school. We do actually get lots of requests from schools via the parents and then to us!...and they specifically ask for woven clothing labels for all school items. Maybe it's the tradition? Maybe it's the quality.?
This type of label is also popular with rest home residents. It has the feel of quality to it and a softness which might be preferred to the newer printed clothing labels.
If you are after these types of labels with your personal name printed or company name or website, then we're only too happy to help. It's nice to have some old fashion style still around and these woven garment labels do just that!

Click here for Woven Labels to see prices and more photos of this type of label.