A care label is for any information you want to attach to your garment or clothing. Sometimes they include laundry symbols to indicate how a particular item should best be washed, dry cleaned or ironed. Or information on the composition of the material. Other times they are used for branding purposes with logos, websites and contact details. There are many options.
Here are some ideas and examples to help you decide on what your care label might include:
A care label can be your business name or logo: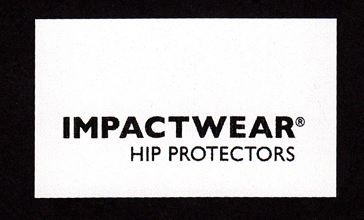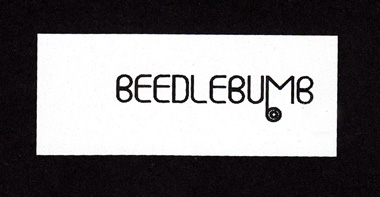 Or it can be your business name and contact details: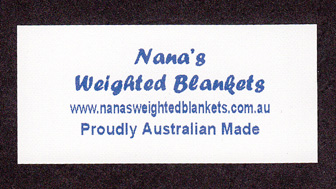 OR we can print your name/ slogan for your product: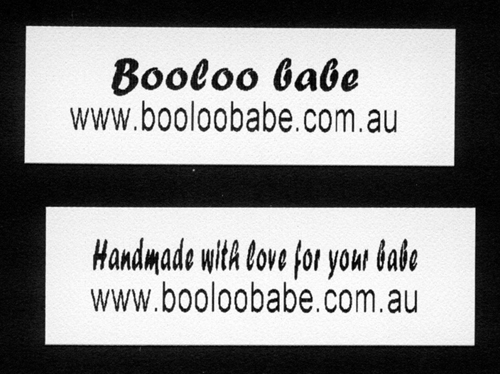 We can print your care label BACK TO BACK. In this example below, you sew on the left hand side only.
The TOP picture is showing the BACK of the label. The FRONT picture is below.



Or a care label can be the do's and don'ts of washing e.g.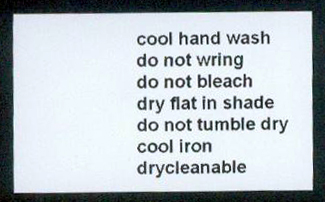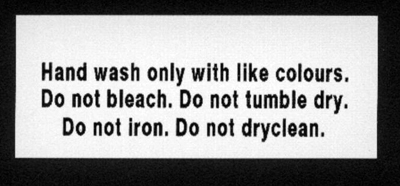 You can send us your logos to include – but remember they should be one colour and without shading.
Even hand drawn logos can sometimes print well e.g.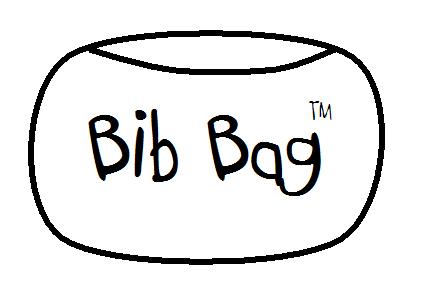 A care label can also tell you where the garment is made and what your material is
E.g. this LOOPED label below. (On the left it is the full size. On the right, it is looped in half.)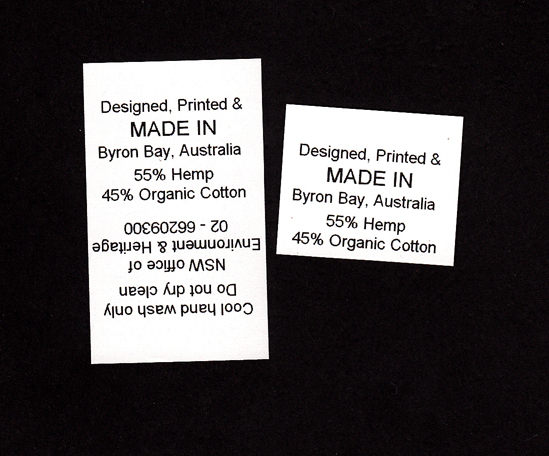 SIZE labels we can print easily and economically
e.g. in the picture you simply cut the label in half and have TWO labels for two garments.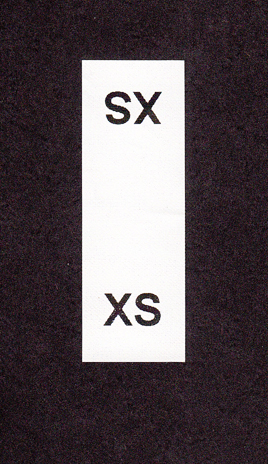 Ordering your Care Label with Name It Labels is very easy. We work with many small businesses or start up company's, people who sell at the markets, or stay at home Mum's or Grandma's – lots of people who require professional looking labels for their clothing lines or projects. Our quantities start at just 50 labels to however many you require.

To order, just follow the simple instructions on our Sew-on Care Labels page.
After ordering, we can send you a jpeg PROOF before we print, for you to approve, if you request it.
Also have a look at our article on Clothing Care Labels to give you extra information about these types of labels.